Description
Technical Specifications
Overview
The G33 Magnifier is the selected magnifier of USSOCOM, and is compact and lightweight. The mount provides fast transitioning from 3X to 1X, and the optic offers tool-free vertical and horizontal adjustments, larger field-of-view and an adjustable diopter for improved, precise focusing. The G33 works with all EOTECH HWS models.
---
Included in the box:
G33™ Magnifier
Switch-to-Side™ Mounting System
Operator Manual
Warranty Card
Protective Case
Compatible with all HWS Models
L X W X H
---
4.4″ x 2.2″ x 3.3″ (113 x 55.9 x 73.7 mm)
Weight
---
Water Resistant
---
Mount
---
1″ Weaver or MIL-STD-1913 rail
Operating Temperature
---
-40°F to 140°F (-40°C to 60°C)
Fixed Magnification
---
Eye Relief
---
Field-Of-View
---
Sealing
---
Fog Resistant Internal Optics
Country of Origin
---
---
---
---
Features
1x to 3x Magnification
The ability to transition between the two distances almost instantly and still maintain weapon accuracy.
Battle Tested
EOTECH is dedicated to providing rugged, reliable and innovative products that offer a true advantage to all who use them.
Adaptable
The EOTECH magnifiers are designed to work for both left and right-handed shooters and all come equipped with a locking, adjustable quick detach lever system allowing for immediate attachment or removal.
---
---
---
EOTECH Magnifier Characteristics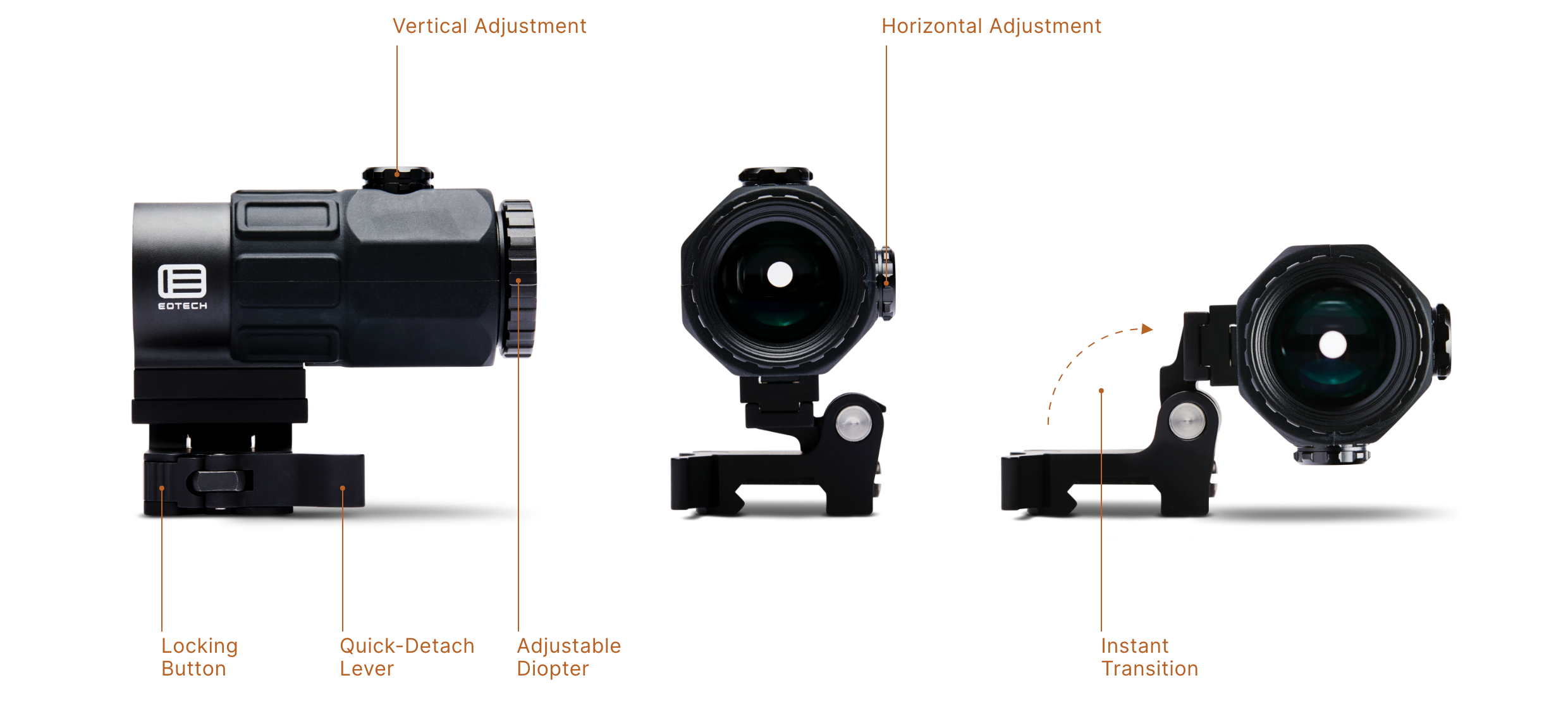 ---
---
---
Operator Grade Magnifier
Shooting conditions and situations can change on a dime, so the need to transition quickly between Close-Quarters Combat (CQC) and medium-range target identification and engagement is vital. Maintaining a precise shot at both distances is a must. The ability to transition between the two distances instantly and still maintain weapon accuracy.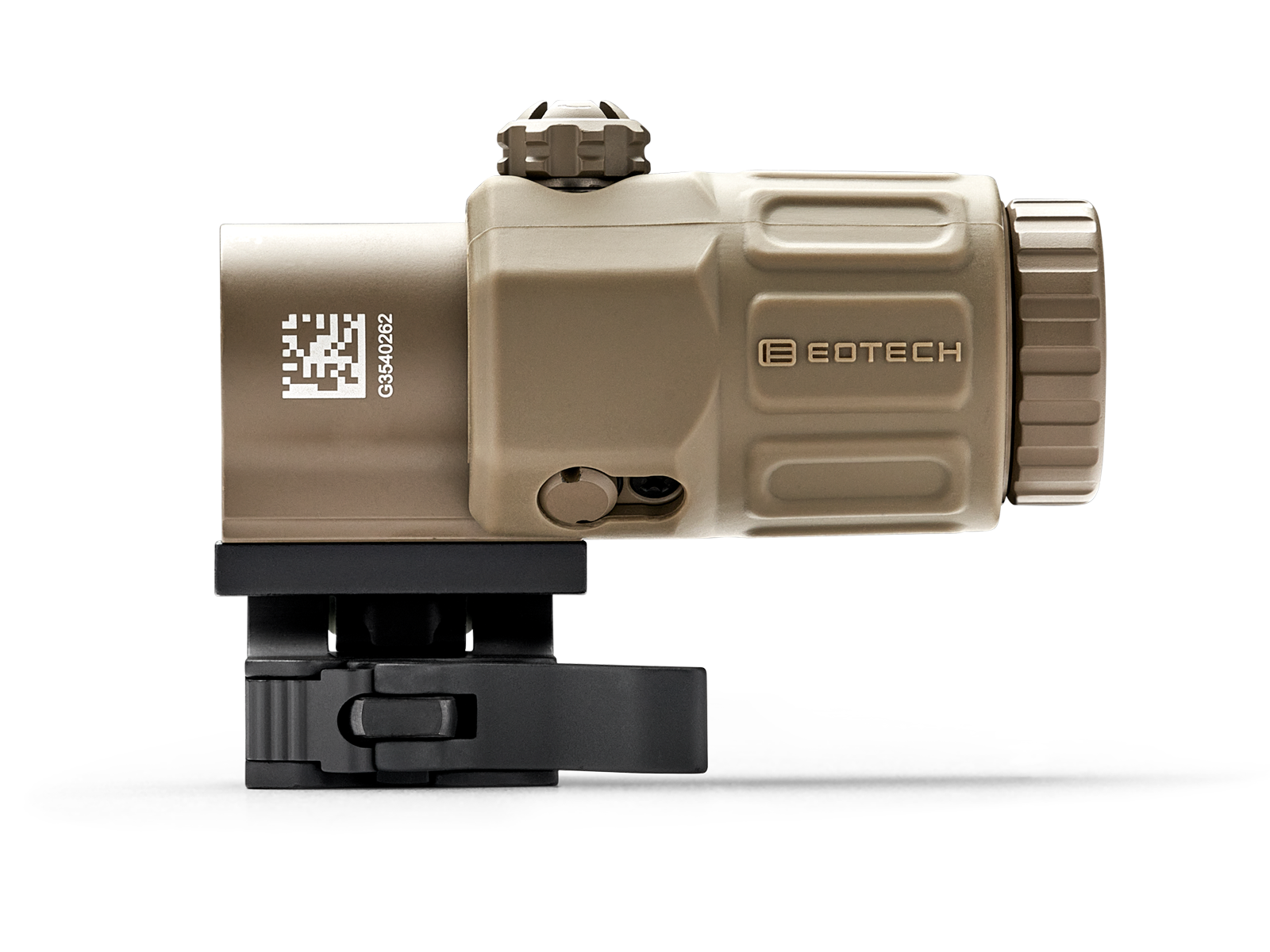 ---
---
---
Magnification / Greater Precision
The EOTECH® magnifiers are designed to beused behind an EOTECH Holographic Weapon Sight (HWS®). The magnifiers can be mounted directly behind the HWS. Simply switch the magnifiers out of the way for quick 1X targeting. When used with HWS Models 518, 558 and EXPS (with side button interface), the user can easily operate the sight even with the magnifier engaged.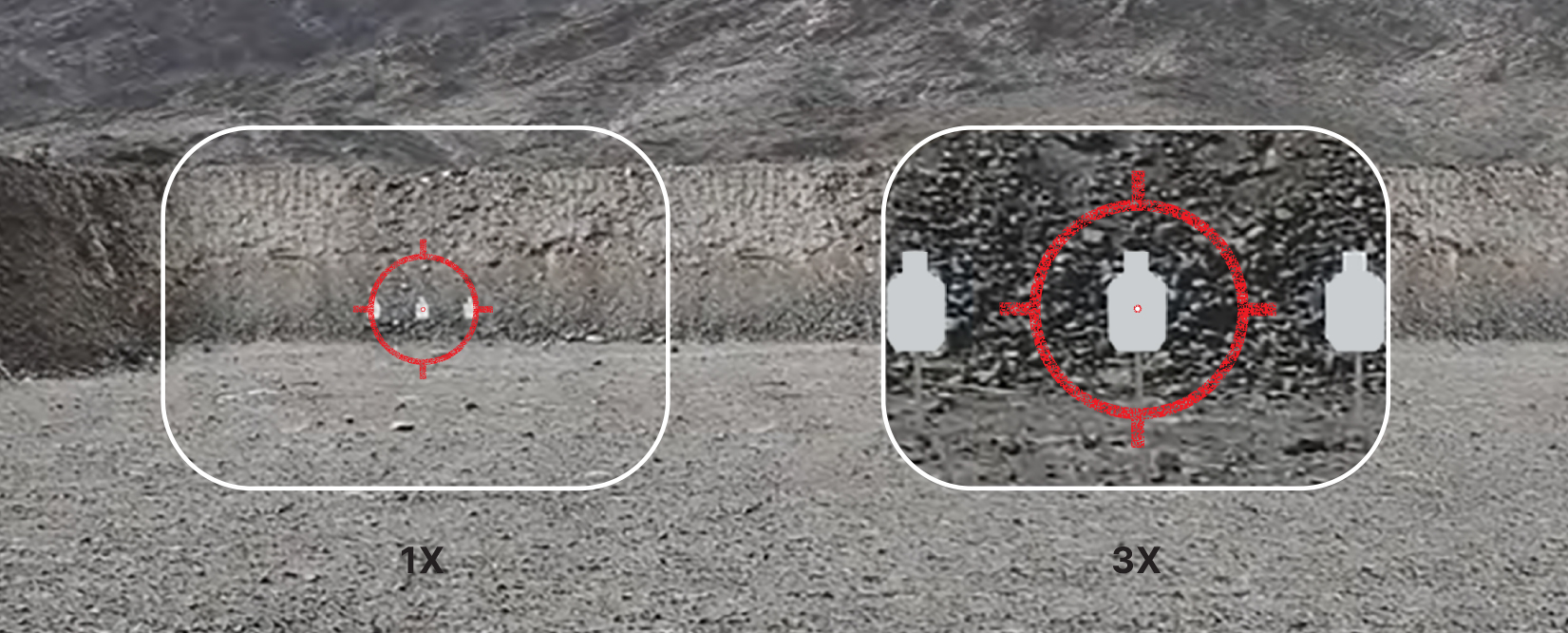 ---
---
---
Restrictions& Considerations
Before Making A Purchase:
Please note that ALL SALES OF SIGHTS ARE FINAL. No returns or exchanges on sights will be accepted. If purchased item arrives damaged or defective, please contact EOTECH Technical Support to obtain a RMA number.
Export Restrictions:
Export of this product is strictly controlled and enforced by the U.S. Department of Commerce, Bureau of Industry and Security, as prescribed in the Export Administration Regulation (EAR), Title 15, Code of Federal Regulations, Parts 730-774. EOTECH, LLC does not authorize any of its dealers or distributors to export this commodity without prior, written authorization, and will not provide warranty or post-sales support of unauthorized international exports.
Prop 65 Warnings:
This product can expose you to chemicals including (Epichlorohydrin, Phenyl, Hydrazine or Cumene) which are known to the State of California to cause cancer, and birth defects or other reproductive harm. For more information go to www.p65warnings.ca.gov.